Love live entertainment? Then you need to head to Noosa's number one entertainment venue, Villa Noosa Hotel.
Villa Noosa is bringing you the best entertainment acts this country has to offer. We have acts covering all genres; from Alternative Rock, Originals, Hip Hop to Classic Heritage Rock.
Upcoming Entertainment at The Villa Noosa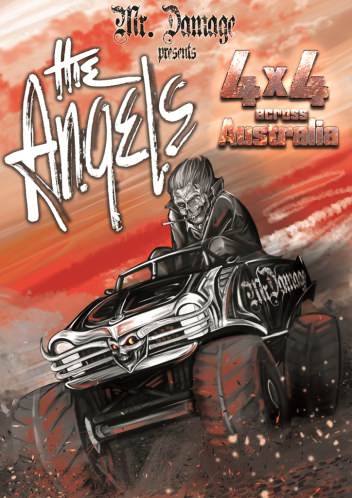 The Angels
4X4 Across Australia 2017 Tour
Buy Tickets Online
Legendary Aussie rock band The Angels are gearing up for a tour guaranteed to smash the speakers and get venues rockin'.
Announcing their 2017 4x4 Across Australia tour, the band will be digging through their back catalogue to pick some of their biggest hits for the special run of shows, which kick off in March.
The 4x4 concept will see the band hand-picking four of their most iconic records, and playing, back-to-back, four hits from each record. Add to that an encore that will feature a swag of more classic tracks, and 4x4 will be a tour to go down in Aussie rock history.
Conditions apply. Bookings essential. See staff for details.
Tickets available from $40
Tickets available at venue
Booking fee may apply
18+ Only - Photo ID required
8pm Onwards
The Sydney Hotshots
Sydney Hotshots: a group of what can only be described as the ultimate kind of man: toned and fit with bulging biceps and a cheeky twinkle of the eye - it is impossible to resist a night out with the Hotshots!
The Sydney Hotshots shows are now known as the best place to party and the Go-To option for girls night's out, hen's nights and birthday parties across Australia. Come watch the hottest men tear off their fantasy costumes, and whisk audience members onto the stage for the time of their lives. Girls will blush, women will scream, and husbands will be left at home.
CALL (07) 5430 5555 TO BOOK YOUR TICKETS!
Paradise City - The Guns N' Roses Tribute Show
Buy Tickets Online
PARADISE CITY is the closest thing you'll get to the real deal in their prime. Delivering an amazingly accurate homage to Guns N' Roses in their world conquering era, circa 1987-1993. Frontman Paul delivers a ball-tearing Axl vocal that'll have you feeling like youve actually travelled back in time!
PARADISE CITY - delivers 2 hours of classic GN'R, including all the mega hits, complete with top shelf sound and lighting production, and detailed costume design, this show is guaranteed to give punters an explosive Guns N' Roses experience.
$10 pre sale
$15 at door
Booking fee may apply
8pm
Killer Queen Experience
Buy Tickets Online
Killer Queen the Brisbane-based band paying homage to Britain's regal rock quartet QUEEN are "guaranteed to blow your mind, anytime". With fully-costumed, superb musicianship and with all the cast resembling the original members of Queen, you will be forgiven to think you're in the presence of the real band.
$10 pre sale
$15 at door
Booking fee may apply
8pm
The Screaming Jets
Buy Tickets Online
Following this year's release of their critically acclaimed, Top 30 album 'Chrome' and the subsequent Music Max Live Album Launch and national tours in May & October 2016, Australia's hardest working rock'n'roll band, The Screaming Jets have announced they're back to deliver their firebrand live shows to a handful of QLD venues in February 2017.
'Chrome' reached #2 on the Independent Music charts, #10 on the ARIA Australian Artist Charts and #30 on The ARIA Mainstream Charts, and has continued to sell solidly on the back of the bands killer live shows.
$40
Tickets available at venue
Booking fee may apply
18+ Only - Photo ID required
8pm
Dragon
Buy Tickets Online
Iconic band Dragon are hitting the road again in 2017 to celebrate an Australian institution, the legendary TV music show Countdown.
Dragon's Countdown Chartbusters national tour will celebrate all time Countdown Chartbusters - The Australian Edition and take the band, who recently celebrated 40 years on the Australian and New Zealand music scenes, on an extensive run around the country.
$35
Tickets available at venue
Booking fee may apply
8pm
1927 & PSEUDO ECHO - Celebration Tour
Buy Tickets Online
Two of Australia's most Iconic bands are teaming up for a full national tour celebrating their place in Aussie music history!
When 1927 debuted with the album ISH it went on to become the highest selling debut release by an Australian artist with mega hits "If I Could" and "That's When I think of You". The band will perform ISH in its entirety, as well their follow up hit songs.
PSEUDO ECHO will celebrate the 30th ANNIVERSARY of "Funky Town", which held the NUMBER 1 spot in Australia for a record 12 weeks! The band will perform a set packed with hits including "Listening", "A Beat For You", "Don't Go", "Love an Adventure", "Living in a Dream" and many MORE.
From $40
Tickets available at venue
Booking fee may apply
8pm